If you're looking for a restaurant to head to on Thanksgiving Day in Tallahassee, you'll be happy to know that there are plenty of options. From traditional American cuisine to international favorites, there's something for everyone. Here are some popular options…
Restaurants Open on Thanksgiving Day in Tallahassee:
If you are looking for a spot to actually eat out on Thanksgiving here are some restaurants that are open.
House of Music Tallahassee Thanksgiving Menu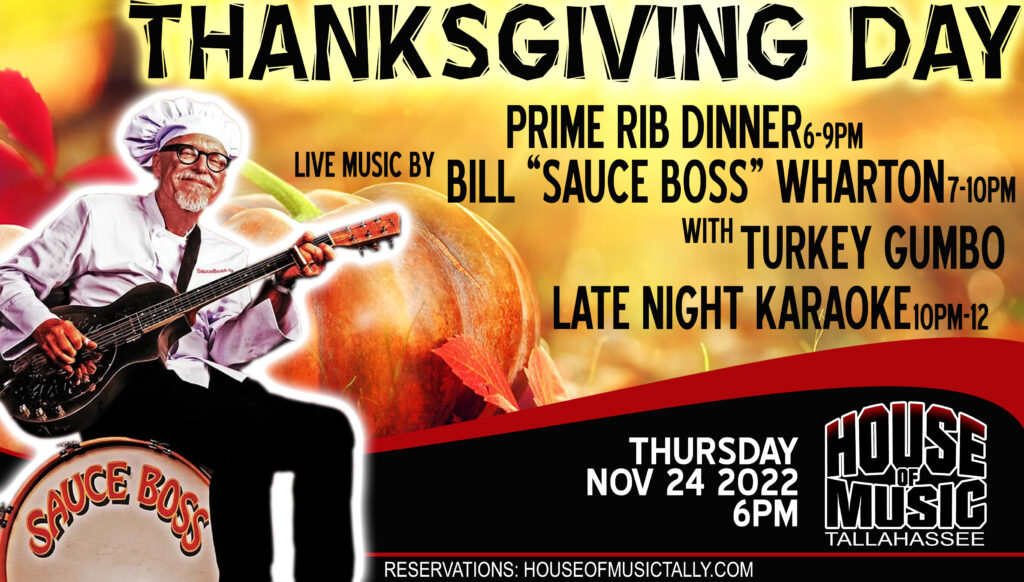 The House of Music Tallahassee will be open from 5 pm til midnight on Thanksgiving. They will have their full menu available as well as the normal Thursday night prime rib dinner.
Live music by Sauce Boss and he's cooking up turkey gumbo on stage too!
Click here for the menu and to make reservations or call (850) 629-9526.
Little Paris Thanksgiving Menu

Little Paris will be open for dine-in or take-out on Thanksgiving Day from 11 am to 9 pm.
Call for reservations at (850) 765-7457 or email [email protected]. Here is the menu…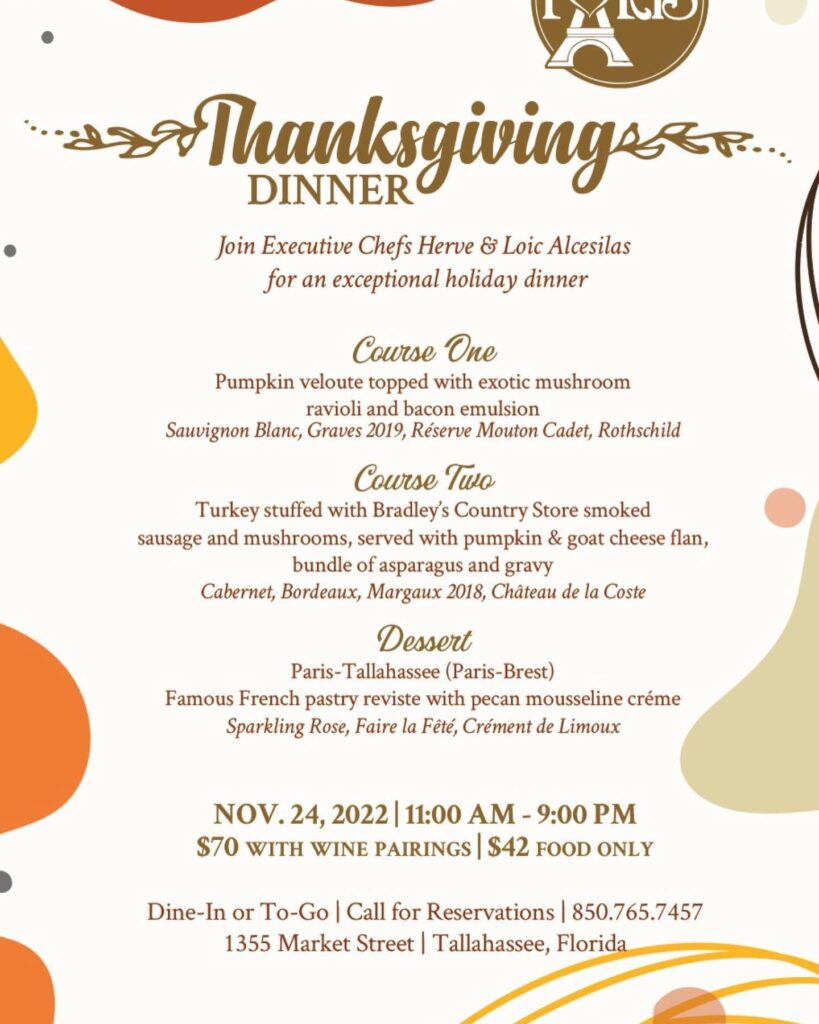 The Lodge at Wakulla Springs Thanksgiving Menu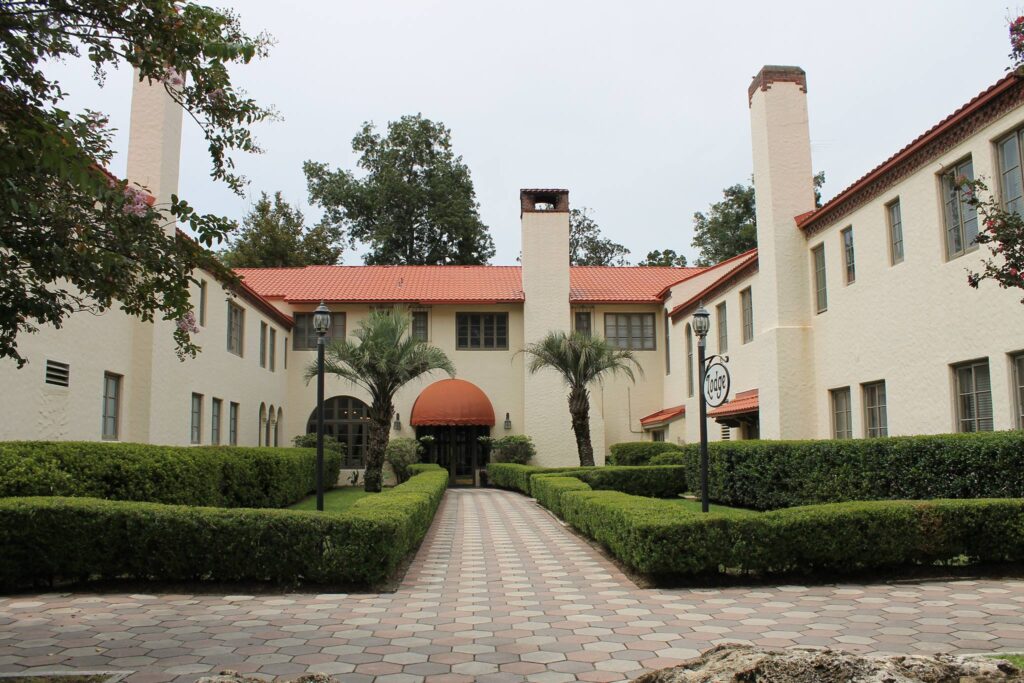 Gobble 'til you wobble with some whole roasted turkey, green bean casserole, pumpkin pie, and more from 11 am to 6 pm at Wakulla Springs Call (850) 421-2000 or visit opentable.com to make your reservations!
Restaurants offering Thanksgiving Take Out
Blu Halo
Let Blue Halo do the cooking for you this year and call (850) 999-1696 between 10 am and 6 pm to place your Thanksgiving preorders by 12 pm on November 20th. Pickup will be on Thanksgiving Day between 10 am-12:30 pm!
Community Co-Op Market
Pies, sides, turkeys, rolls, and more are available to preorder in the Community Co-Op Market Deli! Check out their full menu at www.ccmgrocery.coop or squarespace.
Ida-Belle's Southern Kitchen
Ida-Belle's Thanksgiving "Take and Bake" menu is live and open for preorders! Place your preorders by November 14th for pick up on November 22nd. To place an order, send a message on any of their social media platforms or you can submit a form here.
Jeri's Midtown Cafe
Make this year's Thanksgiving easy as pie and order from Jeri's Midtown Cafe! Jeri's is now accepting preorders for Thanksgiving! Place an order here or call (850) 385-7268 for more information about preorders!
Lucilla
Eat, drink, and be thankful that Lucilla is offering ready-to-heat meals for pick-up on Thanksgiving Day from 11 am-2 pm! Call (850) 900-5117 or email [email protected]. Visit the menu here.
Railroad Square Craft House
They are offering a select menu and charcuturie boards (see below). Email Justine at [email protected] to pick up your Thanksgiving preorders on Wednesday, Nov. 23rd. Call (850) 296-3496 for more information!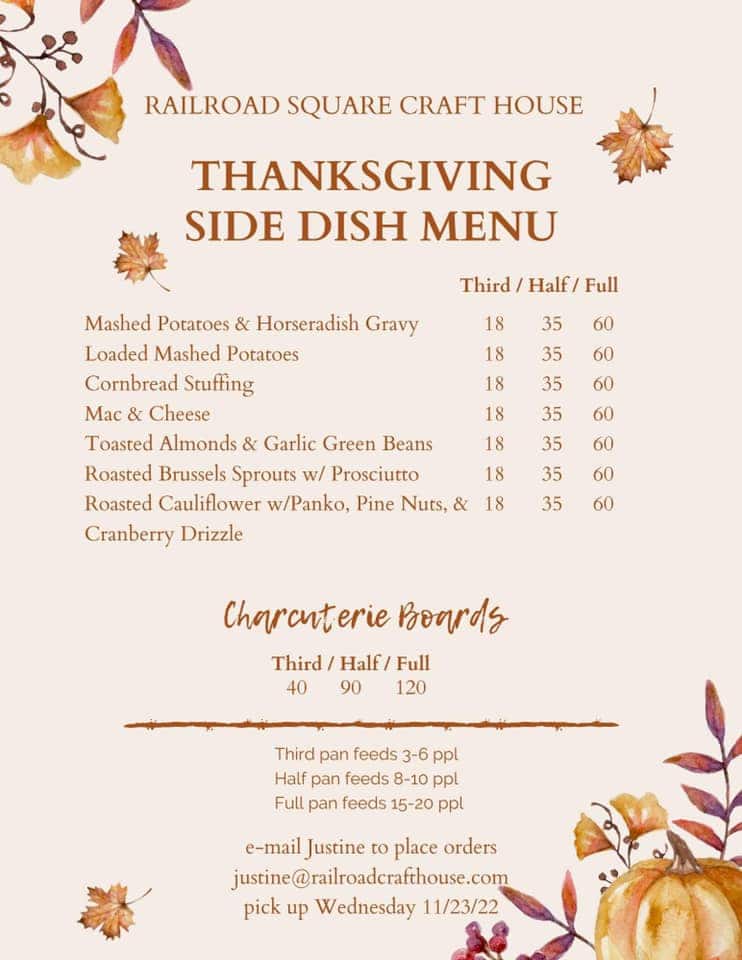 Social Kitchen
Social Kitchen will be offering prepared meals available for delivery (must be within a 10-mile radius of Capital City Country Club) on Wednesday, November 23rd, or pick-up at Capital City Country Club from 2 pm-4 pm. View the menu and order here.
Taste Budz Take Out
Tastebudz will have heat & serve meals available for preorder up until November 21st. Pick-up times are Wednesday, Nov. 23rd from 10:00 am – 6 pm or Thanksgiving Day on Nov. 24th from 8:30 am – 11:30 am. Order now here!
Treva's Pasteries and Fine Foods
To place your order and schedule a pick-up time, please call 850-765-0811 or email [email protected]. They will be accepting orders until Nov. 16th at 6 pm. For the menu and more information click here.
4 Rivers BBQ
Sit back and relax this Thanksgiving and let 4 Rivers Smokehouse do the cooking. Indulge in a variety of proteins and sides for parties as large as 20. Wow your family and friends with traditional main course selections and pies. View the menu and order here.