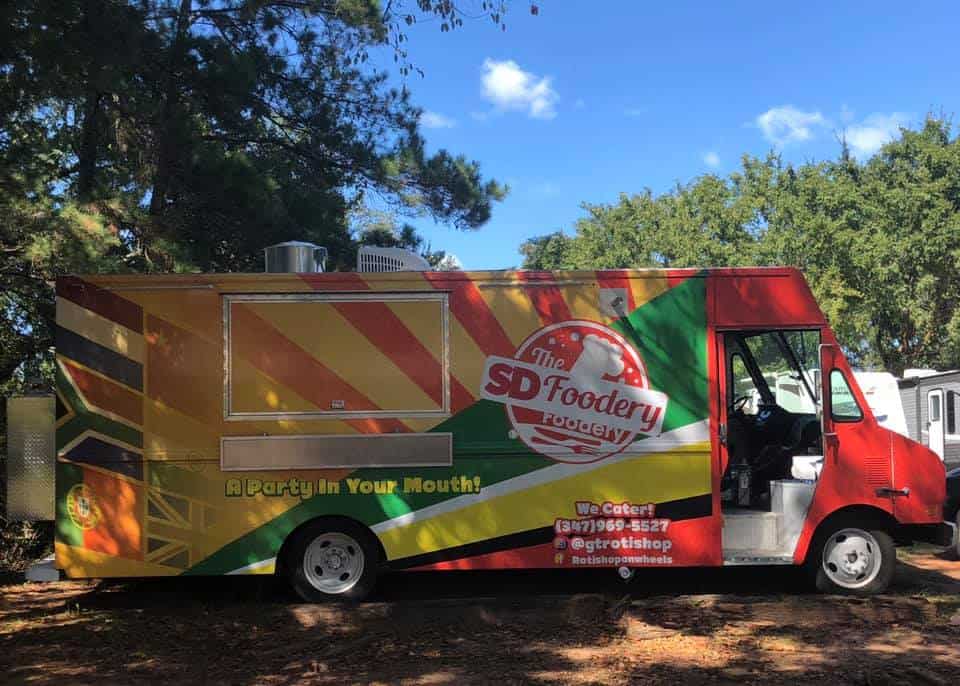 Most trucks have schedules on their Facebook page or you can find where are trucks are going to be using the Street Food App and page. And you can check out the Tallahassee Food Truck Association.
New Orleans-style snowballs, with more than 75 flavors. They're made with either regular or evaporated milk. There are also sour and sugar-free flavors. The food truck does catering and owner Tommy Denis expects it will soon be back out for more stops. Check Facebook and Instagram for schedule updates. Cottages of Lake Ella, 1621 N. Monroe St.; 850-329-6010. Website: restaurantji.com/fl/tallahassee/big-easy-snowballs-/
David Blow has launched this new food truck offering an array of items including catfish, Philly cheesesteaks, wings, salads and kids' meals. Check the truck's Facebook page for Blow's schedule. 850-294-7975
Primarily located at 1907 Adams St. next to Eve's Beauty Supply and Maryland Fried Chicken, and is available for catering and private events. The menu includes ribs, chicken, sausage and burgers, all grilled meats and Southern side dish items like macaroni and cheese, potato salad and baked beans. Customers can contact the owner, Tolan Barrington at 850-322-0210 or check Facebook for updates.
Set up permanently at 5750 W. Tennessee St., has been serving authentic Mexican street tacos along with quesadillas, burritos, Asada waffle fries, flautas and nacho fries plus lengua (tongue) and tripa tacos, soup and pupusas, since 2018. Owners Marco and Shannon Tenorio feature homey recipes from Shannon's 84-year-old mother from Oaxaca. You'll also find specials like tacos birria (with delicious stew-like meat), which the Tenorios have been cooking up before they became such a sensation here. Check the latest menu offerings on Facebook. 850-228-2959. Chile & Chili's also has a Woodville location at 9762 Woodville Hwy. and will also be setting up at Flea Market Tallahassee on Saturdays.
Food truck serves breakfast, with waffles, omelettes, pancakes, French toast and tilapia. The truck, owned by Greg Robinson, also serves sandwiches and platters. Check Facebook for updates.
The Eggcitement food truck, from the folks at Tally Mac Shack, specializes in "monster" handcrafted breakfast sandwiches. Online ordering available. 1108 Call St. Check Facebook for off-campus stops.
This food truck specializes in homemade Puerto Rican dishes like mofongo — with fried pork, chicken, shrimp or vegetarian — tostones, burgers and Cuban sandwich. It's owned by Geno Arroyo, president of the Tallahassee Food Truck Association. Look for El Criollo on the Facebook page, the Street Food Tallahassee app or call 850-322-2328.
Brings "a cup of home on the go" in a mobile coffee trailer circulating in Tallahassee. With help from her father, Rosalyn Wilsey will be serving Lucky Goat coffee, with espressos, lattes and cold brew as well as teas, lemonade, hot chocolate and Diet Mountain Dew, which her dad likes. To find The Frothers Daughter around town, check their schedule on Facebook or Instagram. Here's their website.
Features a wide range of items and daily specials. Look for homey items like roast pork, grilled chicken, chicken and dumplings, fajitas and homemade chicken salad. Check the Funkalicious Facebook page for up-to-date info 850-345-6796 or 570-4943.
Is a food truck that offers American/Puerto Rico food. The truck, owned by Julio Soto — who cooks most of the food — visits different neighborhoods. The truck has been a regular at Food Truck Thursday at Lake Ella and First Friday at Railroad Square and catered parties and weddings. Check their schedule on Facebook and the Street Food Tallahassee app. Soto is the treasurer of the Tallahassee Food Truck Association and he has been serving the Tallahassee area for 10 years. You can email him at [email protected] or [email protected].
Features Mediterranean cuisine, including Lebanese fare as well as burgers. and Buffalo chicken wings. The food truck is stationed at 601 W. Gaines St. and right now they're open from 11 a.m. to 7:30 p.m. Tuesday to Saturday.They'll resume regular hours by the end of the month. Check Facebook and Instagram for their schedules. 850-408-4938.
This food truck offers items like grilled cheese sandwiches, cheesesteaks, burgers and other sandwiches. The truck is currently open on Thursday from 7 a.m. to 10 a.m. at DPBR at 2601 N. Blair Stone Rd. and on Thursday from 11 a.m. to 2 p.m. at 2900 Apalachee Pkwy at the DMV and on Friday at Paddock Club apartments, 19000 Centre Pointe Blvd., from 11 a.m. to 2 p.m. 850-597-9976.
The truck serves authentic Korean fare and fusion foods with Korean flavors. Signature dishes include Korean barbecue, beef or chicken, Korean fried chicken and popular Japchae, which is made with sweet potato noodles, seasoned with paprika, and mixed with onions, carrots and spinach. For location and hours, check Instagram and Facebook. 850-728-2717.
Leola's is a restaurant that also sends out food trucks that travel around North Florida. Leola's, owned by Eric McKinnon, is known for its secret family recipe for garlic sauce and its popular snow crabs, blue crabs, shrimp, fried fish and wings. One of Leola's trucks is parked in a spot at 3537 Thomasville Rd. from 11 a.m. to 7 p.m. Tuesday to Saturday. Check Facebook for other locations. The restaurant is at 1911 S. Adams St.; 850-559-7809 or 850-575-0395.
The ice cream parlor, which also offers breakfast, lunch and housemade candy, also runs a food truck for catering and events. You can find out more about the truck at roaminghunger.com/lofty-pursuits/ The ice cream parlor is at 1355 Market St.; 850-521-0091.
Love Gurlies
The truck is known for its lemonade and deep-fried Oreos. Gurlies' Lemonade and Sweets is open Mondays and Saturdays off 100 E Magnolia Drive. Check Facebook for updated locations.
Mae's offers a wide range of dishes including a breakfast plate, burgers, Philly-style cheesesteak, chicken cheesesteak and vegan cheesesteak (made with jackfruit), burritos, tacos, fries and homey platters like smothered pork chops, meatloaf and baked chicken. Check Facebook or call Mae's at 850-264-6210 for more information.
Mann's is open from 11 a.m. to 7 p.m. Tuesday to Saturday depending on the weather. He still offers his usual burgers and hot dogs and fries as well as his popular po' boys, including a surf-and-turf po boy stuffed with Bradley sausage and fried red grouper finished with a remoulade sauce. 850-320-2283. Mann's now has a restaurant at 850 N. Jefferson St. in Monticello.
Is a Tallahassee institution serving some of the best barbecue in the city for 12 years, thanks to owners Mo and Nicole Holloway. You can breathe in that smoky pork perfume from blocks away. Chef Mo creates tender chopped pork sandwiches or plate, smoked ribs, beef brisket and barbecue chicken with all the fixins — baked beans, potato salad, cole slaw, macaroni and cheese. Follow Mo's advice and pile some of that cole slaw atop your chopped pork. You order from the takeout window of this bright red trailer, which has a permanent spot in the Shell Station parking lot on the southeast corner of Apalachee Parkway and Capital Circle SE. You can take your food home or sit at picnic tables outside the trailer. Hours are 11 a.m. to 8 p.m. Tuesdays to Thursdays and 11 a.m. to 9 p.m. Fridays and Saturdays. You can also get deliveries through third-party services. 3105 Apalachee Pkwy.; 850-570-8800.
Is an old-fashioned, neighborhood ice cream truck that also travels around Tallahassee to offices, and events. Owner Tasha Pizarrro said she also does catering, offering flexible menu options to accommodate budgets. Momma P's offers up to 70 nostalgic ice cream treats and includes items that are dairy-free, gluten-free, nut-free and vegan. "There's no age limit to who's coming out," said Tasha. You can find out the location of Momma P's on Facebook, Instagram, the Street Food Tallahassee app and her website mommapicecream.com/chase-the-truck.html. 850-888-2472.
If you remember the Southern-style restaurant on Tennessee Street, Gritz N Greenz is now offering its homey specialties in this food truck. The Old Skool truck presents dishes like shrimp 'n grits, chicken 'n waffles, and fried green tomatoes. Check the schedule on Facebook page and on Street Food Finder. 850-251-6860.
Is a sunny yellow truck which specializes in islandy pineapple bowls as well as items (choices may change) like Rasta Pasta, jerk salmon and other Caribbean fare, owned by Sam Burgess. 850-454-5404. Pineappetit now has a restaurant as well at 2037 W. Pensacola St.
The Rankins also have a brick-and-mortar restaurant at 2386 Allen Rd.; 850-877-8226. Check Facebook or call the restaurant to find out more about the truck's location.
Offers a taste of Guyana, South America with dishes like the vegan Guyanese Salara, chutney, paratha, beauty berry lemon cake and beet hummus. You'll find the truck from 9 a.m. to 2 p.m. every Saturday at the Downtown Market at 115 Park Ave. The menu is posted on Facebook on Thursdays.
Owned by the Tally Mac Shack' Justo Cruz, specializes in gourmet sliders, small plates and its popular Cuban sandwiches — get either "Miami style" (mojo pork, black forest ham, Swiss cheese, mustard and pickles on pressed Cuban bread) or Tampa Style (add salami). Cruz notes the food truck uses a blend of brisket, beef short rib and chuck to house grind for each of their burgers — which are double-pattied on every slider — and they also offer items like a Nashville Hot Chicken slider and a falafel slider for those looking for a vegetarian option. The truck serves exclusively at Deep Brewing Company at 2624 Cathay Court from Thursday to Sunday.
The food truck is touted as the first Organic Guyanese Food Truck in Tallahassee. It's named after the British dessert. Check Facebook for the food truck's locations. On July 11, the truck will be featuring its newest dessert, a vegan Sticky Toffee Pudding, at the Frenchtown Farmers' Market, 524 N. Market Luther King Jr. Blvd. from 10 a.m. to 2 p.m. . You can preorder on July 10th. 347-969-5527.
Specializes in nostalgic dishes with a modern twist, like "Like Your Mama's Grilled Cheese," shepherd's pie wrap and the Hippie black bean and brown rice burger. You can find her truck schedule at streetchefs.com/ 850-509-3831.
Is known for its good and gooey gourmet mac 'n cheese dishes with varied protein toppings like buffalo chicken, pork belly and slow-smoked pulled pork. The food truck, from Justo Cruz (who also owns Slide Hustle) launched in 2017 with one food truck, then expanded to two and eventually opened two brick-and-mortar locations. It also has a food concession in the Doak Campbell stadium. Tally Mac has a restaurant inside Happy Motoring at 1215 S. Adams St.; 850-570-6858.
The food truck serves signature smoked, smothered turkey legs on its menu of authentic Southern comfort food, with African and Jamaican cuisine and vegan items. Betty Jallah owns the truck with her daughters Halford and Sheena Thompson managing the business. Their stepfather was from Africa so the sisters learned a lot about African cooking. The family owned a childcare center before the pandemic came and devastated their business when parents were no longer working out of the home. Check their Facebook page for an updated schedule. 850-765-1975.
Isa collaboration between Tally Mac Shack and the downtown restaurant/bar, Madison Social. The truck decides on different neighborhoods then takes pre orders for its food and drinks and they're delivered right to the customer's house. Neighborhoods are announced each week on Facebook. The Tipsy Truck sells Dirty Dog jalapeño cheddar smoked sausage specialties and alcoholic slushies. Tally Mac and Register's Meat Company joined forces to create the sausage, which is now also sold in grocery stores.Order at madisonsocial.com/the-tipsy-truck or http://tipsytrucktally.com
Is a food truck features a roast beef sandwich (the Viking), Blue Ox burger, traditional gyro sandwich, curry marinated grilled chicken on naan, eggplant fries and other dishes. Vahilla Grill is currently serving dinner from 5 to 7:30 p.m. Monday to Saturday at 2207 Bannerman Rd. Orders can be placed at 850-797-0418.